The 4th International Conference on Arctic Research Planning (ICARP IV) Process (2022 - 2026)
In the lead up to its 35th anniversary in 2025, the International Arctic Science Committee (IASC) is coordinating a multi-year planning process for the Fourth International Conference on Arctic Research Planning (ICARP IV) lasting from 2022 until 2026 that will engage Arctic researchers, policy makers, residents and stakeholders from around the world to collegially discuss the state of Arctic science, the place the Arctic occupies in global affairs and systems, to
consider the most urgent knowledge gaps and Arctic research priorities and needs for the next decade, and
explore avenues to address these research needs.
The ICARP IV process will culminate at the ICARP IV / ASSW 2025 conference to be convened in Boulder Colorado, USA in March 2025, hosted by a consortium of US institutions, including the University of Colorado Boulder, University of Northern Iowa, University of Alaska Fairbanks, and Alaska Pacific University.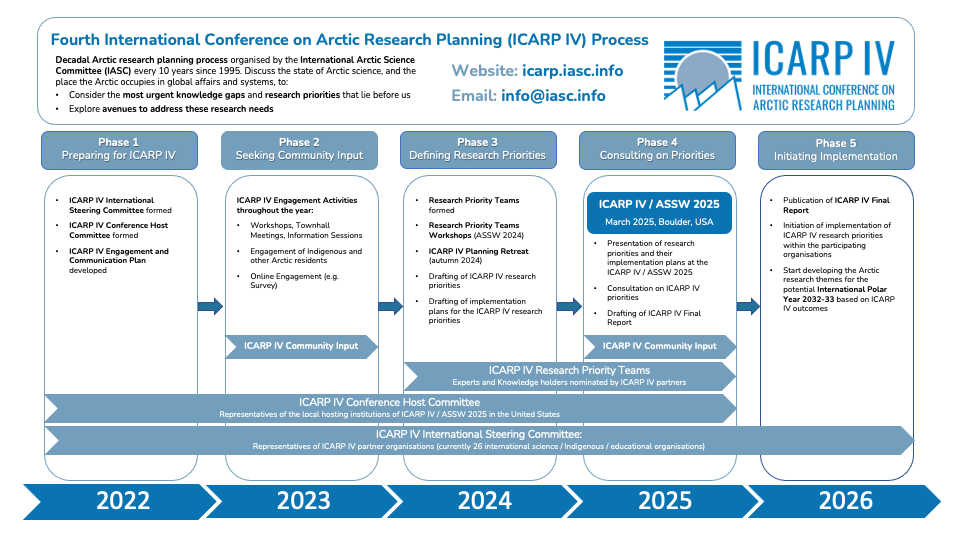 The scientific focus of ICARP IV will be on important research questions that cut across many disciplines and knowledge systems, and that require new and innovative thinking and collaboration. ICARP IV will develop a vision for implementation and science plans for addressing these priorities.
An integral aspect of the ICARP IV will be the inclusion of early career scientists, Indigenous Peoples, and local residents in the development of priorities and science plans to address the key questions. IASC is committed to recognizing that Traditional Knowledge, Indigenous Knowledge and academic scientific knowledge are coequal and complementary knowledge systems that all can and should inform the work of IASC and ICARP IV.
Research efforts should provide improved understanding and predictive capabilities for the evolution of Arctic systems.
Consideration will be given to providing relevant and useful information that peoples in the Arctic and those in more temperate regions need to have in order to adapt and prepare for the changing Arctic and its impact on global systems.
The ICARP IV International Steering Committee (ISC) consists of appointees from all ICARP IV partner organisations and is tasked to oversee and coordinate the ICARP IV process from 2022 to 2026, identify and develop an overall process goal, theme and agenda, sub-theme research questions, and mechanisms for action and implementation of the ICARP IV outcomes.
The Research Priority Teams (RPTs) will work in 2024 and 2025 and consist of experts and knowledge holders nominated by all ICARP IV partner organisations and will be tasked to review and summarize the wider community input provided for their topic area through the open engagement phase in 2023 by defining knowledge gaps and research priorities. They will also develop possible science and educational plans as well as recommendations for implementation of these priorities incorporating the community input. More information on the work of the RPTs will be made available later in 2023.
The ICARP IV Conference Host Committee is formed by the host of the ICARP IV / ASSW 2025 in Boulder, Colorado, United States and will work closely with the ICARP IV International Steering Committee (ISC). The Conference Host Committee, to be advised by a US National Steering Committee, is committed to providing an outstanding venue for sharing scientific achievements, advancing collaboration, and planning for the future of Arctic research.
The International Conference on Arctic Research Planning (ICARP) is a decadal international Arctic research planning process convened every 10 years since 1995 by the International Arctic Science Committee (IASC) in cooperation with its partners. The IASC Founding Articles' call for IASC to host such a conference periodically in order to "review the status of Arctic science, provide scientific and technical advice, and promote cooperation and links with other national and international organizations."